Do you know the story of Sisyphus from Greek mythology? He had to push a boulder to the top of a mountain, yet every time he got to the top it rolled back down and he had to start over again.
Sometimes, trying to improve the performance of Facebook ad campaigns for digital marketers can feel a lot like this.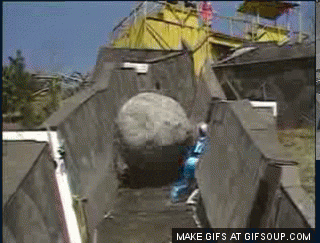 You've tried adjusting your ad copy, trialing different ad formats, audience groups and ad placements – yet conversions still aren't increasing… that boulder keeps rolling back down again.
Running Facebook ad campaigns
A 2018 report from eMarketer reported marketers spent around $21 billion on Facebook ads in the US alone– around 19.6% of the market share. When compared to other social media platforms, Facebook accounted for 83% of total ad spending.
Digital marketers are putting in hours of work and countless dollars to push their products with Facebook Dynamic Ads.
But are they actually using that time and money in the right ways?
Often, they're not.
You may have a great targeting strategy and amazing ad copy. But when 80% of that ad (the image!) is not impressing your audience, you just aren't going to achieve your conversion and revenue goals.
When advertising on social media newsfeeds, you're not just competing with fellow e-commerce businesses. Therefore, standing out enough to earn clicks and purchases is a hard task for digital marketers.
Why are product images the key?
The human brain is hard-wired to look for the image first. Around 90% of information transmitted to the brain is visual. Our brains prefer it and it makes more of an impact at a quick glance.
The average person spends 1.7 seconds before deciding if your Facebook ad image deserves their attention.
High-quality visual content can have a major impact on your conversion funnel…researchers have discovered that visual content is simply processed differently than text. Visuals communicate more information, more effectively.

Nate Birt, a content marketer at Visually
So now we know this, let's take a look at a few easy tips to get the most out of your Facebook ad images.
1. Include your logo and branding
Showcasing a tailor-made design within your image is an effective way to take ownership of ads. It makes them stand out in competitive platforms like Facebook and Instagram.
Using your logo and brand colors will also raise awareness about your business. If I showed you a white polar bear on a red background, the chances are you would immediately think of Coca-Cola?
This is even more relevant when it comes to Dynamic ads for Facebook. These are designed to retarget visitors who have already engaged with your business in some way, and therefore have a greater chance of responding to your ads.
Facebook ads are paid per view, so you want to take every single chance to show your value. This is valid both directly through actual ad conversions and indirectly through effective branding.
2. Include promotions and sales messages
The promotional messages which you add to your Facebook ads don't just have to be included in ad copy. Adding relevant labels to your ad images will not only make them more eye-catching but will bring home the message you want to get across.
Around major holidays, hundreds of brands will be running promotions via their Facebook ads, so taking the step to make your images stand out from the crowd makes sense. Phrases like "free shipping" or "discount" will draw the eye and will be more likely to lead to conversions.
3. That being said… don't go over the top with product images
There's a limit of how much information your audience can receive in those 1.7 seconds that they are viewing your ad.
For that reason, don't go over the top in the branding, promotional text and logos you are adding to product images.
Not only will it look ugly, but it will overload the viewer and not actually communicate your key messages. Facebook recommend around 20% text overlay (or less) to get your point across.
Plus, if you add too much text for social media ads, it might not even reach its full audience.
4. Keep it simple
The old keep it simple advice is never truer than with product ads, particularly for social media channels.
Different audiences scroll through their feeds at different speeds (on average, we each get through around 90 metres of social media content each day!), but as we've already established, you generally have about 1.7 seconds to get your message across.
So the simpler your image and its accompanying ad text, the faster you can get your point across. The example below seems like there is just too much going on, and the viewer is most likely to skip over.
5. A/B Test your Facebook Ad Campaigns
The tips mentioned so far have all proven to increase Facebook ad effectiveness time and time again. But if you don't measure these changes you are making, how will you know what has the greatest effect?
A/B Testing is the final building block of increasing conversions. You need to proactively monitor your ads stats to optimize and maintain high performance.
Watch each ad's performance for a set period of time to analyze how added promotions, logos, borders, sales pricing performed, and then take actions accordingly.
Ad examples in this article were taken from Facebook's Ads Library, a tool in which you can see all the active ads from a certain Facebook page. Facebook Ads Library gives you insight into the best practices of your competition.
The last step
If you are running Facebook ads campaigns for lots of different products, it will take a heck of a long time to implement these tips and improve your ad images one by one.
That's why WakeupData have created a tool that lets you apply any changes to a single, dynamic image template. These templates can then be easily applied to all other relevant products in that ad set with a minimum of fuss. Then, all that's left to do is to monitor the performance of your ads and watch the conversions increase!
This article was written by guest author, Ben Culpin!
Ben is a content marketer for WakeupData, a data feed management company driven by its mission to help empower e-commerce businesses. He specializes in creating valuable, actionable content which will save online merchants time and money.