We all know about Google – the world's most famous search engine. Did you know that there are 3,7 million Google Searches conducted every minute? But Google is far more than that – since the foundation in 1998, Google has made 233 acquisitions of different products and services. Many of them we use every day, and they make our lives easier. Here are 10 Google Tools you might have heard of, but you can use them today!

1. Google Ads
Google Ads, before known as Google AdWords, is Google's online advertising platform. Advertisers pay to display brief advertisements, service offerings, product listings, video content and generate mobile installs within the Google ad network to web users. Every second, there are 3.7 million searches performed on Google, and most results pages include Google Ads. Mobile Ads on Google are displayed within the Google Search Network or Google Display Network. In the US 89% of smartphone users can be reached with Mobile Display Network. Display network reaches roughly 90% of global internet users. Right bidding strategy and specialized campaigns, such as Google Smart Shopping Campaigns will help you meet your goals.

Key Features:
Advertising on Google's Network
Reach a massive audience
Anybody can register and start using Google Ads
2. Google Analytics
Google Analytics is Google's free website analytics platform. With Google Analytics you have an insight into your web traffic, what are users of your website are clicking or buying. In the dashboard find an overview of sessions by country, view users by time of the day, view what pages are your users visiting, sessions by device… You can track specific goals in a customizable dashboard.
Insight into your audience is important to monitor the success of your goals and optimize for better user experience. Audience segment of Google Analytics offers analysis of active users, lifetime value of users, cohort analysis, audiences, user explorer, demographics, interests, geo, behavior, technology, mobile… Each of these segments will give you insight into specific patterns of your users' characteristics or behaviours.
If you're just starting to use Google Analytics, there is plenty of educational tools from Google. You can start learning with Analytics Academy with courses specialised for beginners as well as experts.
There is also a Google Analytics App for tracking and monitoring on the go with the support for major two platforms, Android and iOS.

Google Analytics is website analytics platform, and if you're looking for an mobile app analytics platform, we listed top 11 in a blog post!
Key Features:
Insight into your audience and behavior
Customizable dashboard
Free to use
Tracking goals
Google Analytics App (for tracking on the go)
Custom Alerts
Analytics Help Center
3. Google Alerts
Google Alerts is a content change detection and notification service made by Google. You can get emails when new results for a topic show up in Google Search. For example, info about news, products or mentions of your name. You can change how often you get notification, the types of sites you'll see, your language, the part of the world you want info from, how many results you want to see, what accounts get the alert.

If you're a business owner, this is a great tool to stay on top of your business' online presence and react to online mentions of your brand.

Key Features:
set up alerts when a new topic shows up
track when somebody mentions your business or name
4. Google Trends
Google Trends is a Google's website that analyzes the popularity of top search queries in Google Search across various regions and languages. On Google Trends you can see recently trending searches. Check out daily search trends – topics that peaked during the particular date or real-time search trends for a specific country. You can compare search terms one against other and track how is the search term performing over time. At the end of every year, Google makes a list of what was trending in 2018. In the section 'Year in Search' you can see what were the trending topics in the particular year for a specific country.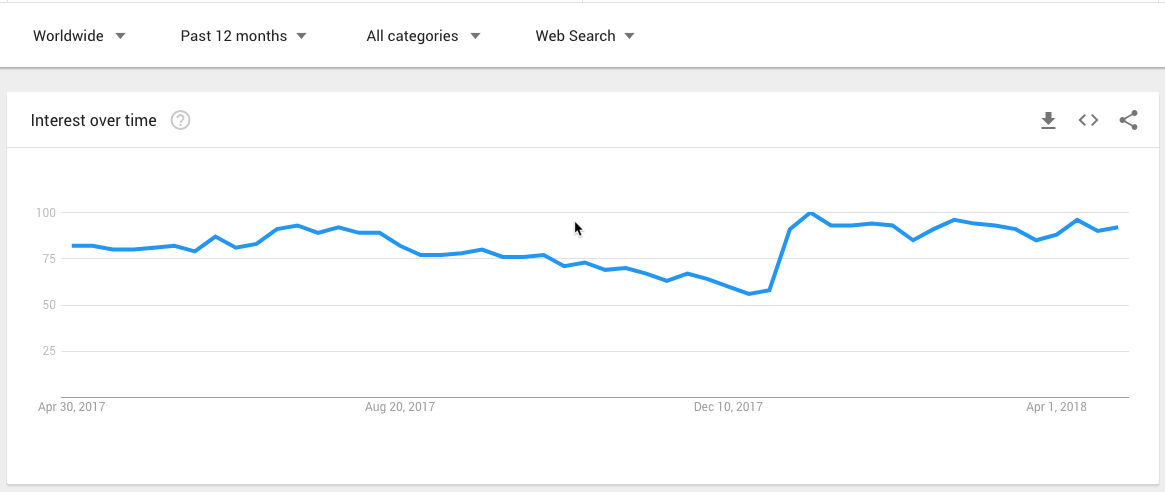 Key Features:
Get notifications about a certain topic
Realtime search trends
Daily Search Trends
Explore how is a certain topic performing in a period
5. Google My Business
Google My Business is a tool to update your Business Profile, build a website and engage with your customers from your phone, tablet or computer for free. You'll be able to edit what people see when they search for your business. With Google My Business you can create a free website in minutes – the website generates with information from your Business Profile. The website created with Google My Business is mobile ready, on a custom domain and ready for ads.
This page will often be the one that your customer will find when searching for your business. Update it with new posts, opening hours, right address – all this information will help your future users to you more easily.
Key Features:
Free to use
Create a free website
Give regular updates
Adjust your hours
6. G Suite
G Suite (formerly known as Google Apps for Work) is a brand of cloud computing, productivity and collaboration tools, software and products developed by Google. You'll be able to try it for free for 14 days. Choose from three plans – Basic, Business and Enterprise, starting from €4/user. Basic plan is aimed for small business. Receive business email through Gmail, message securely within your team, create documents, spreadsheets and presentations in the cloud. Business plan will come with more premium options like low-code app development environment. With G Suite, you get access to number of business-grade services not included with Google's free consumer apps.

Pricing is based on the number of users – a user is one personalized email address. Group email aliases like sales@yourcompany don't count in the number of users and you won't have to pay an additional fee for those emails.

Key Features:
14-day trial
Pricing per user
Cloud storage (30GB or unlimited – depending on the plan)
Premium Google tools
Flexible or Annual Plan
7. Data Studio
Google's Data Studio is Google's reporting solution for demanding users who need more than data and dashboards of Google Analytics. You'll be able to tell your data story with charts, including line, bar and pie charts, geo maps, area and bubble graphs, paginated data tables, pivot tables…
In Data Studio, you can connect to a variety of data sources, explore your data and share the insights with your team or the world.
Data Studio reports and data sources are stored on Google Drive. That way it will be easy to share a report or data source with another editor – you can work together in real time as a team on the same files. All your changes are automatically saved – with revision history you can see old versions of the same report, sorted by date.

Key Features:
Visualize your data
Collaborate on reports with your teams
Add and edit charts
Share reports and data sources
Visual editing interface
8. Google Calendar
Being organized is important to any business. With Google Calendar you'll be able to easily keep track of all your meetings and share your schedule with others.
Not only can you track your meetings, you can use Google Calendar for setting up an editorial calendar to organise the blog and other marketing content. Share the tasks among content contributors both internally and externally.

Key Features:
Free
Schedule meetings & task
Create an editorial calendar
Collaborate with the team
9. Google Keep
Free Google tool for keeping notes, lists and photos on one place. You can collaborate on lists and notes with who you choose with. With the Keep App, your notes and lists will be synced on the go, as well on the desktop or tablet. Widget for home screen will remind you of the tasks you need to do. Organise your notes and lists by color coding and labels. You can create custom labels – it will make searches a lot easier. Reminders can be based on a specific date and time or a specific location.

Key Features:
Free
Set up reminders
Collaborate on tasks and lists
Android and iOS app
10. Google Drive
Google Drive is a file storage service developed by Google. Since the launch in 2012, many users adopted it in their lives. Files are safely stored on Google's servers and the first 15 GB of storage are free with Google account. Google Drive also has a mobile app so you can access all of your files on the go. You'll be able to share the files and invite others to view, edit or leave comments on any of your folders or files. If you're in a need of a scanner – Google Drive can help with that too, you can use a device camera to scan in paper documents.

Key Features:
Safely store your files
Share your files and folders
Look up file details and activity
Search by name and content
Conclusion:
While reading this article, you've probably found a tool you haven't heard of before. Some are free, some are paid. Some will help you stay organized, some will make the most of your data. We can't deny that Google is part of our lives and a homepage of many users – but Google is much more than just a search engine. Many of the tools mentioned are free or you can at least try them for free before switching to the premium, paid version.
Also, if you know about a great Google tool we didn't mention, let us know in the comments below! 👇
About Udonis:
We are an award-winning marketing agency specialized in mobile apps & games. We help scale products that people love, keeping the attention on data and results. Have questions, need help? 🤗 Email us at hello@udonis.co!