Updated: 13/05/2019
This article lists top 15 mobile ad networks to acquire new users in a power ranking by AppsFlyer.
As an app or game entrepreneur looking to advertise an app, you've probably faced a lot of questions about advertising: Where to find new users? Where will I get the best value for my money?
You should start thinking about searching the best ad network for your needs – taking into consideration your budget, goals, and expectations.
Luckily for you, our team at Udonis compiled a list of top ad networks for acquiring Android and iOS users for your app. We've used data from "The AppsFlyer Performance Index", which comes out two times a year.
Edition VIII is the most comprehensive to date covering 20 billion installs and 39 billion app opens of over 11,500 apps. The data is divided across 11 regions globally, and for the first time it includes Africa & Middle East.
AppsFlyer analyzes the performance of mobile media sources 2 times a year in the AppsFlyer Performance Index. Edition VIII covered the mobile media sources during the second half of 2018, including ROI, retargeting and growth rankings.
Let's take a look at top 15 mobile ad networks for acquiring app users!
---
1) Facebook
Facebook Ads are widely used – there is no minimum budget and no special registration is needed. Facebook still holds the top spot in all verticals and all regions – not surprising since Facebook has 2,3 billion monthly active users. Creating a new campaign will consist of choosing your marketing objective, ad format and audience you wish to target. When placing a campaign, it's possible to have your ad shown on Instagram to reach more audience, even if you don't have an Instagram account.
Ad Formats:
Image
Placements: Facebook Feed, Facebook Right Column, Facebook Instant Articles, Facebook Marketplace, Facebook Stories, Messenger Stories, Instagram Stories, Instagram Feed, Audience Network Native, Banner and Interstitial, Sponsored Message, Messenger Inbox
File type: JPG or PNG
Image ratio: 9:16 to 16:9
Find more information about image ads here
Video
Placements: Facebook Feed, Facebook Instant Articles, Facebook In-Stream Video, Facebook Marketplace, Facebook Stories, Messenger Stories, Facebook Suggested Video, Instagram Stories, Instagram Feed, Audience Network Native, Banner and Interstitial, Audience Network In-Stream Video, Audience Network Rewarded Video, Messenger Inbox
File type: most file types are supported
Image ratio: 9:16 to 16:9
Find more information about image ads here
Carousel
– this format allows to showcase up to 10 images or video within a single ad, each with its own link
Placements: Facebook Feed, Facebook Right Column, Facebook Instant Articles, Facebook Marketplace, Facebook Stories, Messenger Stories, Instagram Stories, Instagram Feed, Audience Network Native, Banner and Interstitial, Messenger Inbox
File type: JPG or PNG
Recommended ratio: 1:1
Find more information about carousel ads here
Collection
– ad format that makes it easier for people to discover, browse and purchase products and services from their mobile device
Placements: Facebook Feed, Instagram Feed
File type: image or video
Recommended ratio: 9:16 to 16:9
Find more information about collection ads here
Targeting:
Locations – target ads to people based on locations (for example country, state, city, zip or postcode)
Age – target ads to people within a certain age range
Gender – target ads to women, men or both
Languages – target ads to users who speak a certain languages
Detailed Targeting – include or exclude people from an audience based on demographics, interests and/or behaviors
Connections – include or exclude people from your audience based on connections to your Pages, apps or events
Custom Audiences – target audiences of people you already know created from the information you provide or from information generated on Facebook's products
Placement:
Facebook
Feed

Instant Articles

In-stream videos

Right column

Marketplace

Stories
Audience Network
Native, banner and interstitial

In-stream videos

Rewarded videos
---
2. Google Ads
Google is still second to Facebook, despite Google's share in the non-organic app install pie increased by 23% worldwide. Google's rise in the Index is the result of the search giant's focus on mobile. Mobile Ads on Google are displayed within the Google Search Network or Google Display Network. In the US 89% of smartphone users can be reached with Mobile Display Network. Every second, there are 2.3 million searches performed on Google, and the majority of search results pages include Google Ads. Display network reaches approximately 90% of global internet users.
Ad Formats:
Depending on where they appear – different formats will appear on different devices or within them – in mobile browsers or within apps.
On mobile phones or tablets
Text Ads
Image Ads
App promotion Ads
HTML 5 Ads
Within apps on mobile phones or tablets
Text Ads
Image Ads
App Promotion Ads
Image app promotion Ads
Video app promotion Ads
TrueView for app promotion Ads
Responsive display Ads
Targeting:
location, language, OS, devices, ad scheduling, keywords, site category options, placements, mobile app categories, topics, audiences (remarketing, interest categories, custom combinations, age, and gender)
Placement:
Google Network is divided into groups so you can choose where your ad will appear
The Search Network results pages, other Google sites like Maps and Shopping, Google Play Store
The Display Network – Google sites like YouTube, Blogger, and Gmail, plus thousands of partner sites across the Internet
---
3. Vungle
Vungle offers different ad formats within its mobile-app network. Roughly half of Vungle's business is in mobile games. Zain Jaffer, CEO of Vungle, describes Vungle as a performance-based marketing channel. More than 25,000 app developers across iOS, Android and Windows work with Vungle. In March of 2018, Vungle announced the global availability of Self-Serve Platform which automatically converts uploaded video content into a variety of advertising creatives. The platform comes with support for multiple languages like Simplified Chinese or Korean. Vungle servers more than 2 billion video ads impressions a month to more than 235 million unique consumers around the world.
Ad formats: (creatives templates)
Dynamic Interstitial
Square Dynamic Interstitial
Showcase
Looping
Carousel
Gradient
Swipe
Targeting:
– Vungle combines Nielsen DAR demographic data with their first-party and performance data
Geographic targeting
Device (phone or tablet)
Connection (all connection types or WiFi only)
Operating System
Publisher (whitelist/blacklist)
Placement: 3-rd Party Apps (Vungle's ad partners are: AdMob, MoPub, IronSource, Fyber, DoubleClick For Publishers, HeyZap)
---
4. Twitter Ads
Twitter has around 300 million users that send more than 500 million Tweets each day. With 80% of Twitter's user accessing the app from mobile device – this is a great opportunity for everybody looking to acquire mobile users.
A great advantage of Twitter Ads is that there is no minimum campaign spend. You can choose a daily budget for your ads. But Twitter recommends starting with at least $30/day to consistently reach audiences.
Ad Formats: Full, Full landscape, Banner, Native, Medium rectangle
Targeting:
Your audiences
Demographics (gender, age)
Location, language, technology
Audience features (refine your audience by selecting features to include or exclude in addition to demographics)
Additional options (target the people who follow your account on Twitter)
Placement:
Profiles and Tweet detail pages
Search results
Users' timelines
Twitter Audience Platform
(specific format of ads depending on your campaign objective – these are formats for app installs)
320×480 – Mobile portrait interstitial
480×320 – Mobile landscape interstitial
300×250 – Mobile, tablet
320×50 – Mobile leaderboard
---
5. AppLovin
Third on the power ranking for the app category, Applovin is the biggest mobile ad network for apps behind Facebook and Google. AppLovin provides one solution for mobile developers – a place where they can grow their apps and monetize them. According to Applovin, they process over 30 billion advertisement requests a day and use real-time feedback to make effective marketing decisions across 1 billion mobile consumers worldwide – delivering results for publishers like Disney, Uber, Groupon, CBS, Hotels.com, Yelp, Zynga, and King.com and others.
Ad formats:
Graphic
Interstitial
dimensions: 1024×768, 768×1024
file type: JPG, PNG, GIF
Banner
dimensions: 320×50
file type: JPG, PNG, GIF
Native
Native Image: 1200×627
App Icon: 300 x 300 to 600 x 600
file type: JPG, PNG
Video
Landscape Video: 570×320
Portrait Video: 320×570
File type: MP4, MOV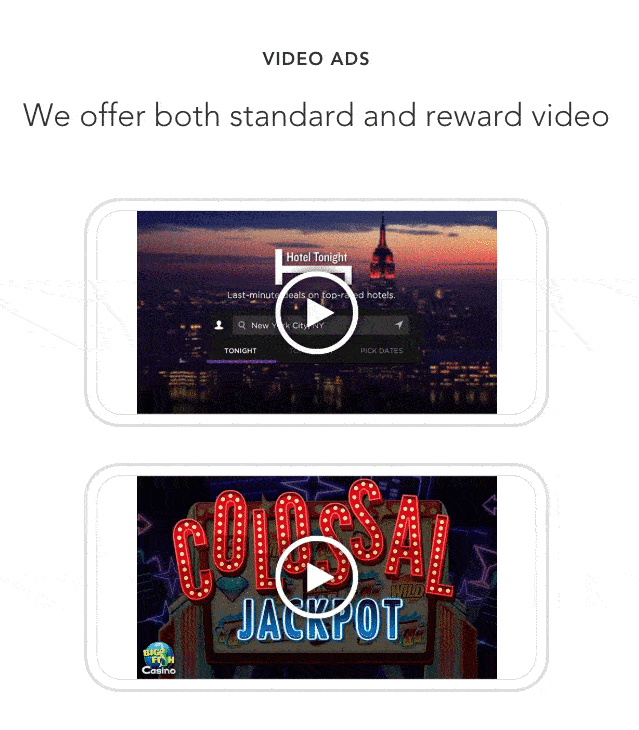 Playable ads
They enable you to engage your audience through a sample of your app -available upon contact of AppLovin representative for further information.
Targeting:
Countries
– you can choose specific countries or one of the predefined groups (Africa, Asia, Eastern Europe, Latin America and the Caribbean, North America, Oceania, Western Europe)
Device Types
– phone or tablet
OS versions
All Versions, Specific Version
Custom Audiences
Custom Devices
Connection Speeds
Placement: AppLovin partner network
---
6. ByteDance
ByteDance is a Chinese Internet technology company behind the hits like musical.ly and Tik Tok (Douyin). ByteDance consists of content platforms that enable people to connect with, consume, and create content through machine learning technology and it is valued at $75 billion. Their flagship product is Toutiao, a news aggregator serving news to users based on their interests. ByteDance's biggest market is China, but their products are available in over 40 other markets, including Japan, S. Korea, N. America, Europe, Latin America, South East Asia, and India. All of those markets are highly valuable – they are among top mobile markets by the number of downloads. On ByteDance's web, latest products are listed as well as the contact form.
7. Apple Search Ads
Focused only on iOS App Store, Apple Search Ads helps users discover your app within plenty of other ads. Two versions are avaliable – depending on your needs, Apple Search Ads Basic and Apple Search Ads Advanced. With over 70% of App store visitors use search to discover apps and with 65% downloads coming directly from App Store search, it's a valuable marketing tool. It only exists for 2 years, ranking 10th in 2016, in 2017 proved as a much better channel, ranking on the 4th place. With $100 credit from the Apple, you'll be able to try Basic Search Ads for free.
You are eligible for a new account credit if you are a developer and registered account holder on App Store Connect.
Ad formats: Auto-generated ads (Ads are automatically created using the metadata, screenshots and app previews provided on the App Store)
Apple Search Ads Plans:
Basic
– pay only for installs at a cost you choose
– intelligent automation
– minimal management
– for budgets up to 10,000 USD per app, per month
Advanced
– choose keywords and audiences for your ads
– set your own bids and budgets
– detailed reports of all key metrics
Targeting:
Search Match (automatically matches the ad to the relevant searches)
Keywords (you can choose your own keywords or the ones Apple suggests)
Customer Types (you can show your ads to new customers, existing customers, users of your other apps or to everyone)
Demographics (gender, age range)
Device (iPhone/iPad)
Locations
Placement: Top of the relevant search results in the App Store
---
8. Snapchat
This image and video messaging app was developed in 2011, and it became famous by video feature 'Stories' that was later copied by Facebook and Instagram. Almost a quarter of Americans used it in the 2018 – this puts Snapchat ahead of LinkedIn, Twitter and WhatsApp. Most of the social network's growth was driven by advances in India, Eastern Europe, and Australia. Across Snapchat network, there are over 3 billion snaps sent every day, and Snapchat Stories are reportedly viewed 10 billion times a day. Ads were introduced in 2015 – via ad feature platform "Discover" that allows publishers to advertise their third-party short-form content. With Discover, users browse different content from partners like CNN, The Food Network, Cosmopolitan, DailyMail, Yahoo! News…
Ad formats: Snap Ads, Collection Ads, Story Ads, AR Lenses, Filters
Targeting:
Interests & Behaviors – target Snapchatters based on the things they like and do
Demographics – targeting by age, gender, categories like household income or parental status
Location – country, location category (like "universities"), radius around a specific addresses
Custom Audiences – retargeted Snapchatters who have already seen your ads or engaged with your business
Lookalikes – expand your reach by finding Snapchatters similar to your existing customers
Placement: Snapchat Ad Network
---
9. Unity Ads
Unity is a world known real-time creation platform used to create half of the world's games, and Unity Ads was launched in 2014. Game developers can monetize their games, and advertisers reach target audiences across more than 1 billion unique devices. Unity Ads is a network with the highest ARPU (average revenue per user) of any global rewarded video ad network. Most favorable and engaging advertising format is rewarded video. Nearly 70% of users have a positive attitude towards in-app rewards. Unity also offers mediation of your ads to maximize your monetization, offering methods like traditional waterfalls or unified auction method.
To create the campaign, you need to complete the following 3 steps:
– add one or more creative packs
– add countries you would like to advertise in
– add tracking attribution links
Unity recommends a minimum campaign budget of $2,000 and a daily budget of $500 per country. To start advertising, you'll need to add funds to your advertising account and the minimum deposit is $1000.
Ad Formats:
Videos
– the best option would be to upload the vertical and horizontal video so the Unity's valuation algorithm selects the best orientation to display
length: 30 seconds max.
format: MP4
recommended file size: 10 MB, maximum file size: 100 MB
End cards
– end cards are creative assets displayed at the end of an ad with a call to action for users to download the advertised product
format: JPG or PNG
resolution: 800 x 800 for square end card
otherwise, use 800 x 600 pixel resolution for landscape images and 600 x 800 for portrait images
Targeting:
Internet Connection – WiFi or cellular
Operating System – minimum OS version/maximum OS version
Device (Apple only)
Screen Size (Google only)
– small (at least 426 x 320 pixels)
– normal (at least 470 x 320 pixels)
– large (at least 640 x 480 pixels)
– xlarge (at least 960 x 720 pixels)
Screen Density (Google only)
– ldpi (120dpi)
– mdpi (160dpi)
– hdpi (240dpi)
– xhdpi (320dpi)
– xxhdpi (480dpi)
– xxxhdpi (640dpi)
Placement: Unity Ad Network, 3rd-Party Apps
10. Liftoff
Liftoff is a full-service mobile app marketing and retargeting platform. It uses post-install data to optimize user acquisition and retention campaigns. Liftoff ad network is focused on actions beyond the install, with the database of over 2 billion unique, fraud-free mobile profiles.
Litfoff's platform is available after you contact their representative through the contact form.
Ad Formats:
Interactive
Video
Animated
Rewarded video
Interstitial
Native
Banner

Liftoff trademark is Liftoff Dynamic Ads – a way of generating creatives personalized for specific geos, OS's and screen sizes that saves your team hours of designing ads.
Targeting:
Liftoff builds lookalike audiences by identifying the demographics and interests of your most engaged users and then targeting them.
Placement: 3-rd Party Apps (Liftoff Partner Ad Network)
11. Moloco
Moloco is a self-serve ad network that is completely programmatic. Campaigns can be optimized for CPI or CPA. You can also run re-engagement campaigns to retarget users who have viewed your ad before or engaged with you in some other way. Moloco's proprietary audience model targets users who look like your most valuable users.
Formats:
– Moloco's creative engine converts brand assets into creatives as a blend of image, native, video and playable formats
Image Creatives
Native Ads
Videos
Playables
Targeting:
– Moloco doesn't list targeting options
Placement:
3-rd Party Apps – Moloco is a partner of multiple ad exchange networks like DoubleClick, MoPub, AdColony…
12. Digital Turbine
Digital Turbine is both Mobile Delivery Platform and App Advertising Platform. App Advertising Platform connects advertisers and agencies with new customers on the largest global telecom partners around the world, bypassing app stores and going device-to-device with sponsored recommendations and native preloads. Digital Turbine delivered over 1 billion sponsored app installs and has partnered with 70% of the top apps on Google Play. If you're looking for global reach and scale, with access to over 150 million devices in more than 190 countries, Digital Turbine is a good choice for you.
Ad Formats: Dynamic Preloads, Recommendation Wizard, Dynamic Installs, Native App Preloads
Targeting: –
Placements: Digital Turbine Ad Network (30+ world's leading mobile operators)
13. ironSource
IronSource, one of the 18 unicorn companies in Israel specialized for ads in the gaming industry. When it comes to gaming, this is the biggest mediation platform. IronSources proprietary bid optimization technology and ROAS optimizer allow you to optimize bids across app, geo and device. With one of the largest mobile video SDK's in the industry, with over 80K integrations, they have a large amount of in-game supply in which to run AR ads directly to most engaged gamers. In 2017, they were the first company that launched AR ads for games.
Ad Formats:
Video & Carousel
Video & Full Screen
Video & Interactive End Card
Targeting:
Device Type (Phone, Tablet)
OS Version
Placement:
ironSource Mobile Ad Network
3-rd Party Apps
---
14. 9Apps
9Apps is the world's largest third-party Android app store and mobile application distribution platform, with current daily app downloads of up to 35 million. With 250+ millions of monthly active users, 9Apps is present in a hundred countries, but its main focus is on 6 areas: India, Indonesia, Russia, Brazil, Southeast Asia, Middle East. 9Apps delivers 35 Million daily app downloads.
15. Tapjoy
Tapjoy is mobile advertising channel founded in 2007, with 500M+ data points, 50+ proprietary, first part data segments and 1B+ App installs. It has 600 million global monthly active users (125 million only in the United States). With an average completion rate of 85%, 5% average click-through rate and with average 10 seconds spent on watching the ad – it is ideal advertising channels for mobile gaming. In exchange for premium content, customers can choose advertisements or offers that are appealing to them.
Ad Formats:
Offerwall Plus
– a customizable interface that blends into the game experience with a range of options, from colors and currency icon to transition)
Direct Play/Rewarded Video
– ad units that take over the whole screen and play a video that starts automatically without the user pressing a "play" button
Interstitial
– ads that completely fill the entire mobile screen
– only PPV, rich media and CPC ad types are supported through the full page ad unit
ad sizes: 320×250, 748×720, 1000×490
Other ad-unit Types
– such as "Message to Earn" and "Native to Earn" Targeting:
Device Type
– iPhone, iPod Touch, iPad, Android, Windows
Geography
– All Countries/Selected Countries/US DMA Only
iOS Device Versions
– All iOS Versions/some iOS Versions
Android Device Versions
– All Android Versions/Some Android Versions
Connection Type
– All Connection Types/Wi-Fi Only/3G Only

Placement: 3-rd Party Apps
---
Mentioned categories
Formats of Ads
Banner Ads
Banner ads are smaller ads that appear at the top or bottom of the screen. They perform the least well of all formats and they are not that often used anymore.
Native
Native ads are popular in both mobile apps and on the mobile web. These ads are favored for their integration into content, allowing for uninterrupted user experience. They are integrated with the rest of the content (for example, news feed or in between levels of a game).
Interstitial
Interstitial ads are ads that completely fill the entire mobile screen, and can be found in various areas of an application, including, but not limited to at launch, after main menu screens, and after a user completes a level. Each platform will offer different ad sizes.
Rewarded video
Rewarded video is a specific type of video ad that is shown in exchange for a reward, such as unlocking a life to continue playing or for in-game currency. They are also called incentivized ads.
Playable ad
Playable ads are interactive ads that users engage with by playing a part of a game or by using an app before downloading. These ads are effective at increasing conversion rates, user retention and revenue.
Direct Play
Direct play is ad unit that takes over the whole screen and plays a video that starts automatically without the user pressing a "play" button.
Offerwall
Offerwall ads give users choice to select their preferred ad experience in return for in-app currency. More customizable ad experience.
---
Targeting
With more and more data being generated and analyzed, platforms are offering more options for specific targeting of your audience. Some simpler options are age or region, but now marketers are targeting the audience based on their gaming history, what device they use etc. Some regions, like EU, have certain obstacles with data manipulation – GDPR was introduced in 2018 and it brought changes how and what for can user data be used. Targeting is an important factor helping you to acquire users.
---
Placement
There are different ways in which ads are placed in-app or game. On Facebook and Google ads are most often integrated into the rest of the content (native ads), and in games we're seeing more and more playable, video or rewarded ads.
Supporting data
In this article, mobile ad networks were listed based on the AppsFlyer Performance Index.
AppsFlyer Performance Index is most comprehensive report card on the performance of mobile media sources in the first half of 2018. In the period of January to June of 2018, 250 media networks were evaluated, each with a minimum of 50,000 attributed installs. Overall number of installs was 14.5 billion. Number of apps analyzed was 8,200, and total of app opens was 25 billion.
Power Ranking is Volume and Retention ranking combined. Ranking of the media sources based mostly on the total number of non-fraudulent installs each was attributed for and the number of apps running with a specific source in a given region or a category.
Conclusion
In 2019, the question is no longer is mobile marketing important, but how do I use it for my advantage. "Build it and they will come" can't apply in the fast world of mobile, right advertising is just as important as the product alone. More than 62% of people made a purchase on a mobile device, only a third of consumers used both a mobile device and a desktop for the same purpose, and 80% of consumers used a mobile phone to research products and prices.
So why aren't you advertising on mobile?
Each of the networks listed in this article has a specific advantage for advertising a certain product or service. Some require registration and are available only upon contacting their representative, others are completely self-service. Different ad formats and placements are available on each network, as well as targeting options.
Facebook is leading the list, followed by Google Ads. Snapchat and Twitter are only social media networks that are included in this list beside Facebook.

One of the important factors to think about is geography, more about choosing the right GEO for your next campaign you can read in our blog post.
About Udonis:
We are an award-winning marketing agency specialized in mobile apps & games. We help scale products that people love, keeping the attention on data and results. Have questions, need help? 🤗 Email us at hello@udonis.co!