Imagine you're in a bowling alley, holding a bowling ball, about to aim at pins. Your aim is to knock down all the pins with a single hit. Well, targeting is similar. Imagine that the pins are your target audience, and the bowling ball represents ads. The better you aim the ball (ads/targeting), the better the results will be (user acquisition).
If you don't have your target audience defined, you're shooting in the dark. Targeting and the defined target audience is the key to the success of all of your marketing efforts. Everything should revolve around the user, and knowing who he is will enable you that.
If you have a clearly defined target group, you'll have a much clearer idea of how, where and when to reach it. You can start very broad with categories like millennials, but you'll achieve the best results when you figure out the details.
Don't be afraid to be very specific. People who are not in your target audience can still buy from you, but they're not your top focus and they're not the user around whom you want to model your marketing strategy.
Restrain your feelings and intuition and rely on data and research. You probably won't have a target audience defined to the smallest detail from the start, you'll need to learn on the go, adapt, test and repeat the process over and over again until you find out what works the best.
Target audience/target market
A target audience consists of people who really want or need what you're offering.
If you know what problem you're solving or what innovation you're offering, you'll also know whom to target. To target these people mean you'll be able to put your product in front of the most relevant audience.
Begin with figuring out who needs your product and focus on what problem it solves.
After that, check out the competition. Whom are they targeting? Who has bought their product or service? Avoid making assumptions and rely on data. As you change, grow and expand, your target audience will change too. Your target audience is dynamic and it should be often rethought and redefined.
How to define and analyze your target audience
To find out, we'll have to go through a couple of questions:
What are the details of your product, business or service?
What problem you're solving for the user?
How will the user benefit from your product or service?
How does your target audience usually spends the day?
What is the typical age or gender of your target audience? Do your target users have children? What are their income and education?
What are some interests of your target audience?
6 steps to a successful target audience analysis
1. Define

If you already have a product or a service, a great first step is to take a look at all those people who already purchased something from you. Once you have that figured out, you can see where you can expand.
Some of the data you should consider when defining your target audience:
Age
Age is one of the most basic targeting options in every mobile ad network, but with a simple option, you can narrow your target audience significantly. For some products, you don't have to be too specific. If your product is, for example, an app aimed at young parents, the age of your target audience would be 25-35. It would make no sense to target teenagers or seniors. Location
Where does your target audience live? Nowadays, we have the power to access and display ads in almost every corner of the world.
Language
Don't assume that everybody speaks English or your language, but also, not all users will speak the dominant language of the location you're targeting.
Spending habits
How expensive is your product and who can afford it? Is your app a subscription service or a paid app that will be aimed at more affluent users or is it a free product?
Interests
What are some other things your customers enjoy? How do they spend their day?
Other
In what stage of life are they? Do they have kids? Are they in college? Maybe searching for a job? Retired?
For a B2B product, your categories will look a little different. You'll want to target the "decision makers", people who have the power to make a buying decision.
2. Analytics
If you don't have a huge audience of people who already downloaded your app, purchased your product or used your service, you can look at your previous product or social media. How did your previous app perform? Who is your audience on Facebook or Instagram? Use Facebook Audience Insights to get in-depth information about the demographics of your audience, but you can also see what other Facebook Pages they liked and what devices are they using.
Mobile app analytics help us learn how users engage with our products and campaign so we can make them better. In the end, knowing the behavior of your existing users is crucial for the success of your app.
If you're wondering which mobile app analytics is the best fit for your app, check out this article – Top 11 Mobile App Analytics Platforms. 3. Competition Research

After you've researched who is using your product and who is following you on social media, it's time to see what are your odds against the competition.
Are your competitors going after the same audience you are? What kind of ads are they using? How do they position themselves?
You won't get an insight into their Facebook Ads Manager, but recent scandals Facebook was involved in started a change in the transparency on the biggest social media network. Facebook invested a lot of effort in overcoming security and privacy issues and improving the existing tools.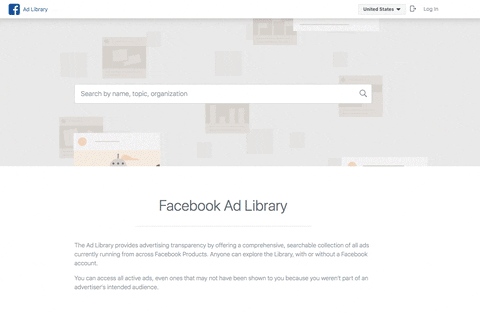 With the increased level of transparency on Facebook and "Why am I seeing this" feature, now you can find out how the brand got their contact information or why are they seeing a specific ad. You can see whom the advertiser targeted with the ad. In the new Facebook Ads Library, you can see all the active ads of a particular page. It gives you insight into the best practices of your competition.
4. Have a clear value of your product or service

Knowing your product well will be the key to understanding what makes you different from the competition. A long list of features will only bore your future users.
Features only describe your product. But explaining the benefits explains what are the results. How your product makes someone's life easier, better, more interesting?
If you don't have a list of benefits of your product, start brainstorming.
Let's take a look at Runtastic fitness app. How is this app different from other fitness apps?

They're targeting busy, a young user trying to stay fit. Their first line is "only 15 minutes", which points out one of the main benefits of the app. With the use of the app, users save time needed for going to and back from the gym. Since the target audience of "Runtastic" app is clearly busy, their goals were to present it as something that will offer more in a limited time frame.
5. Test the ads

After you've done the research, you can start creating ads on mobile ad networks. Choosing the channels you'll distribute your ads should also be with your target audience in mind. Demographics of ad networks vary greatly. Snapchat could be a great choice for a hyper-casual game while Facebook could be better for a navigation app.
When you've decided on an ad platform, you can experiment with targeting. Each ad network has different options and the process will slightly vary, but all of them have the same general categories like age, location, language…
Track the success of your campaigns with mobile app analytics and attribution platforms.
6. Start again

You could be jumping from joy if you finished all of the steps above, and you could be thinking that your job is over. But this is one job that never stops. As your app, service or product changes, so does your target audience change.

From time to time, you'll need to revisit your target audience research results and make sure do they still apply.
Your target audience changes over time, and that's completely normal. To achieve the best results, you need to stay on top of the changes.
To sum up:

If you're still reading, you probably have a much clearer idea of how to conduct a target audience research and why it is so important. Narrowing down the specific people you want to show your ads to will enable you to put your ad in front of the most relevant audience.
Research. Listen to your audience and users. Know their problems. Find out what do they like about your product and what problem it solves for them. Don't forget to test what you're doing and collect the data with analytics.
I think you'll also find these articles interesting! 👇 💁
Mobile user acquisition – 7 ways to attract new users
5 tips to increase conversions using Facebook ad images
New Facebook Ads Library – all Facebook Ads in one place?
We are an award-winning marketing agency specialized in mobile apps & games. We help scale products that people love, keeping the attention on data and results. Have questions, need help? 🤗 Email us at hello@udonis.co!