Keywords are the key! Pun intended 😂 To properly conduct keyword research, you'll have to go through a lot of words. Keyword research is the crucial part of App Store Optimization process, and if your app page is properly optimized, you'll have more success in reaching the right audience. We all know that creating a good app is not an easy job. It takes a lot of effort, time and commitment to achieve that, but after you've finished with your app development, more obstacles will appear.
With more than 2,5 million apps in the Google Play Store and 2,45 million apps in the App Store, it's not that easy to stand out.
Keyword optimization is the key element of a complete and comprehensive App Store Optimization (ASO) strategy. To choose the right keywords, first you need to do keyword research. If done well, it will increase the number of installs and revenue. Subsequently, it will lead to higher ROI (Return on Investment).
Keyword research
Start by researching possible search terms and keywords that lead to your application. The best way to start your keyword optimization is to do keyword research. Try brainstorming keywords around your features and keyphrases. Consider all the possible keywords and keyphrases that could lead to your app. An ideal number is, at least, 2000 keywords and keyphrases per language.

It is useful to find out which terms users frequently apply by, that can be done by reading user comments, scrolling through forums and groups on social media and examining competitor's app listings. Another way to improve conduct keyword optimization is to use app store optimization tools such as App Radar, Gummicube, PreApps, etc.
Keyword optimization
After constructing a keywords list, sort the keywords and choose the right ones. It is important to find out which keywords are worth including. Pay attention to three elements: relevance, competition, and search volume. The most important element is relevance. App keyword optimization is about increasing impressions, traffic, and downloads. Search popularity and keyword competition are essential when it comes to developing a successful keyword optimization strategy.
Adapting your keyword list to other languages can increase the app's traffic. Thesaurus helps you find alternative words for describing your app. Adding alternative words and terms affects your app's discoverability and the thesaurus lists some of the important regional terms and slangs that you may not think of. Best online tools for this purpose are Thesaurus.com and Synonym.com.
Another simple way to expand your keywords list is to look at search suggestions in a search engine. Start typing to see what the autocomplete function of the search engine will suggest. Think short. Long key phrases are common on the web, but not in the App Store.
There are few key differences between Google Play and the App Store. In the App Store, you have a designated field, 100-character keyword field. Google Play's algorithm is more complex, taking into consideration keywords from multiple fields.
Here are the examples of App Store's and Google's metadata fields that are important for keyword optimization:
App Store Connect
Name
Subtitle
Keyword Field
Search Ads
Google Play Store (Developer Console)
Name
Short Description
Description
Developer Name
Reviews
Keeping track of your keyword rankings
To improve your keyword optimization's efficiency you should keep track of your keyword rankings. This isn't an easy task because the rankings will vary depending on the number of app versions, stores, and localizations. It is recommended to use keyword tracking tools that help you get an insight into which relevant keywords are ranked the best. One of the tools specialized for keywords research is AppRadar.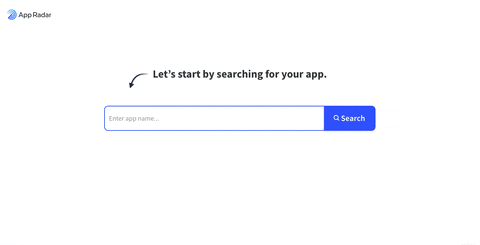 Testing your keywords
After you've selected all your best keywords, you should put them to the test. It could take up to several days to several weeks for everything to start working properly.
Keep track of your listing's for an insight into your performance. Within the first month, app stores should provide the data about your app listing, data about the number of times you appear in searches and your install conversion rates. Those number will tell you how well you did your job.
App stores are constantly changing their algorithms, so keyword research needs to be an ongoing process. Even the best-researched keywords can lose rankings over time.
To help you make changes, you should use ASO tools to analyze your changes and determine their impact. Make changes you think will have a positive impact on your app store listings.
Another tool you can use for app market analysis & app store optimization is APPLyzer. On APPLyzer you'll have insight into download rankings, keywords ranking. You can also spy on your competitors while doing market research.
To sum up:
You might find that dealing with keywords is messy, but it is a crucial part of App Store Optimization. Carefully select keywords and update and optimize regularly. This task is time-consuming and sometimes may even seem annoying, but it will pay off in the end.
About Udonis:
We are an award-winning marketing agency specialized in mobile apps & games. We help scale products that people love, keeping the attention on data and results. Have questions, need help? 🤗 Email us at hello@udonis.co!